In recent years, the shift towards online banking has been increasingly evident, with more and more customers opting for digital banking services over traditional brick and mortar banks1. Online banks are becoming increasingly popular due to their convenience, low fees, and high-interest rates. The COVID-19 pandemic has only accelerated this trend, as people have become more comfortable with online banking and avoiding in-person transactions. According to a recent survey, more than one in four people do their banking entirely online, and this number is expected to grow in the coming years2. This shift is leaving many to wonder, where is the future of banking headed?
Let's start by looking at the key advantages and differences between traditional and digital banking.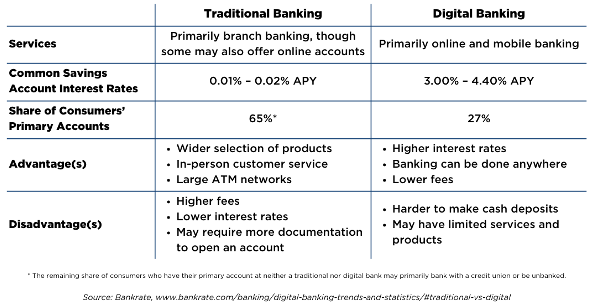 While traditional banking may come with digital options, providing a hybrid experience, the next big transformation in the industry is proving to be the incorporation of artificial intelligence. AI adoption may seem like an even more dramatic shift away from brick and mortar but in reality, it may allow for an even more personalized relationship between banks and their customers. At a minimum, the ability to automate many routine tasks, such as account balance inquiries and password resets around the clock would free customer service representatives up to focus on more complex issues.
Widespread implementation of AI in banking will require substantial focus on safeguarding the security and privacy of customer data, training AI models on the banking industry and ultimately, customer adoption. While brick and mortar banks are not going away anytime soon, the online banking trend is undeniable. It's clear that financial institutions should be focused on increasing their flexibility and adaptability, and offer a competitive customer experience for consumers with a wide variety of needs. No matter what type of banking experience you're looking for, the option that best fits your needs is out there!
Sources:
AARP. "The Vanishing Brick-and-Mortar Bank Branch." https://www.aarp.org/money/investing/info-2021/why-are-bank-branches-closing.html
GOBankingRates. "The Future of Banking in 2023: Will Online Banking Eliminate Brick-and-Mortars?" https://www.gobankingrates.com/banking/banks/the-future-of-banking-will-online-banking-eliminate-brick-mortars/
Bankrate. "Digital banking trends in 2023" https://www.bankrate.com/banking/digital-banking-trends-and-statistics/#stats