Preparation Over Prediction: Your Finances and the Markets
Recently the S&P 500 and Nasdaq composite recorded their worst weekly downturns since March 2020. There are many things at play this time around with the big theme being inflation, domestically and globally. Over the past year in the United States, despite early calming voices from the Federal Reserve stating any inflation was transitory in nature, prices for just about everything have risen at the fastest pace in 39 years. The Fed is expected to make potentially drastic moves to combat this inflation, including tapering its bond-buying efforts and raising interest rates multiple times throughout the next few years. These plans that the U.S. central bank has seem to have spooked investors on Wall Street. In fact, the market doesn't tell the only story. Here are the Google trends for people searching "Is the market crashing?" over the last five years.

https://trends.google.com/trends/explore?date=today%205-y&geo=US&q=is%20the%20market%20crashing
But what if this isn't a crash? What if this is the market behaving completely normally?
Blackrock recently published some numbers that reflect some of the worst performing days and months for the S&P since 1950 and how the index reacted accordingly over the next year. The numbers are staggering.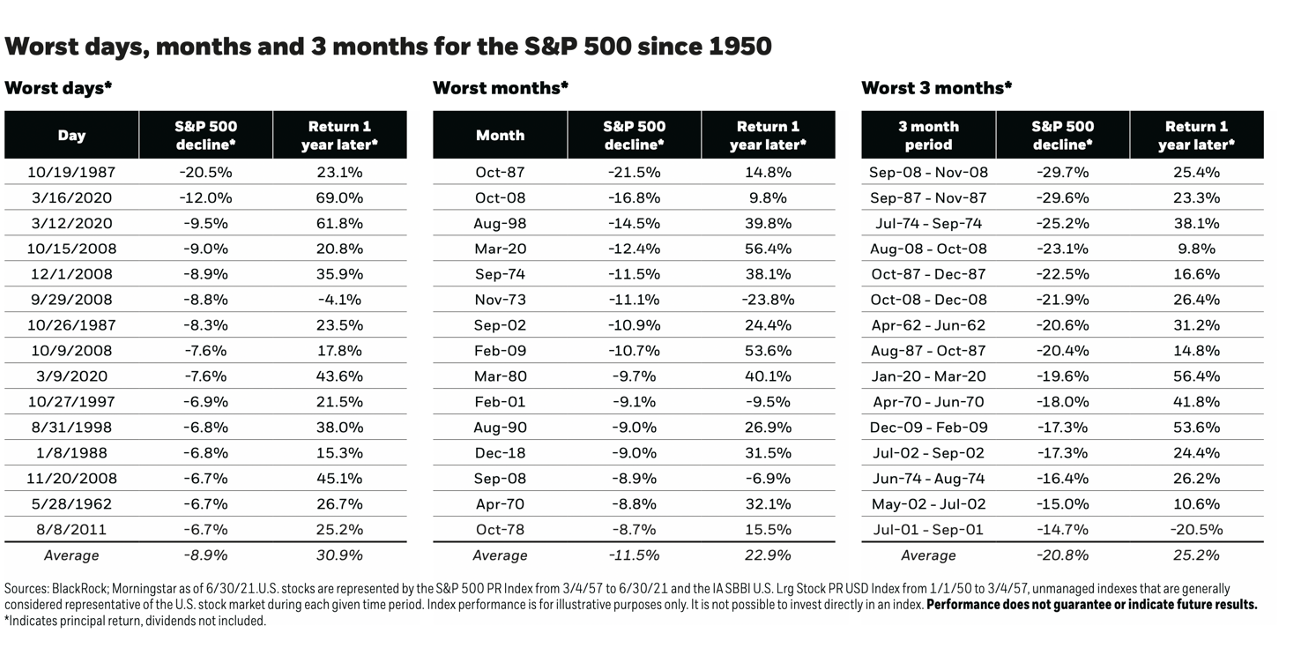 If these numbers don't help calm your nerves, here are a few things to think about when you ask yourself or your advisor "What is our plan?"

1) Stay calm and don't make any rash decisions.
Reference the above numbers and remember that 10%+ corrections in the market are fairly common. In fact, in 29 of the past 50 years the S&P 500 has experienced this type of correction and has happened about once every 19 months on average, going back to 1928. If you can keep this in mind, it will help you get through this pullback.
2) Don't check your portfolio balance frequently
Checking your balance every hour or even day during a market correction isn't going to help with step one and may force you into making emotional decisions that could result in losses for you. Remember: it's only a loss on paper unless you sell!
3) Revisit your financial plan
Most investors have a majority of their investments growing to achieve a long-term goal like retirement. Stocks, despite their recent rise in retail popularity, are not meant to be traded daily inside your portfolio. You should own individual stocks for long-term purposes so short-term fluctuations in their price shouldn't change that strategy. If you do have investments meant for short-term growth, a market correction can be a harsh reminder that stocks are a risky asset to own for these purposes.
4) Deploy your dry powder
It always makes sense to keep a level of cash reserve on hand in case of major emergencies but if you have been sitting on some extra cash waiting for a good time to act, a correction can be a great time to find discounts! There may be some quality stocks that are 15-20% lower than they were last month. This doesn't mean you should empty the tank on anything and everything that is on sale, but a correction is a good trigger to start doing some research. There may be quality stocks that are just down with the broader markets but remain solid companies. Be careful, do your research, but take advantage of the opportunity!
It's important you consistently re-assess your overall investment plan and risk tolerance from year to year. There isn't one person on Earth that can accurately and consistently predict when a market correction will come but the prepared investor can relish an opportunity while others run for the hills.