What is an umbrella insurance policy?

Umbrella insurance is a type of personal liability insurance that can be a real lifesaver—or rather, life savings-saver—if you ever find yourself liable for a claim that's more than what your regular liability insurance will cover. Essentially, it means that if you get sued for a large sum, your umbrella insurance will pick up where your homeowner's, auto, or other personal property insurance leaves off.
You may think your current coverage is more than enough, but with the costs of medical expenses, extended lawsuits, and other legal fees being what they are, you may be surprised how quickly things can add up. By investing in an umbrella policy, you will gain peace of mind knowing your current assets—as well as any future earnings are fully protected.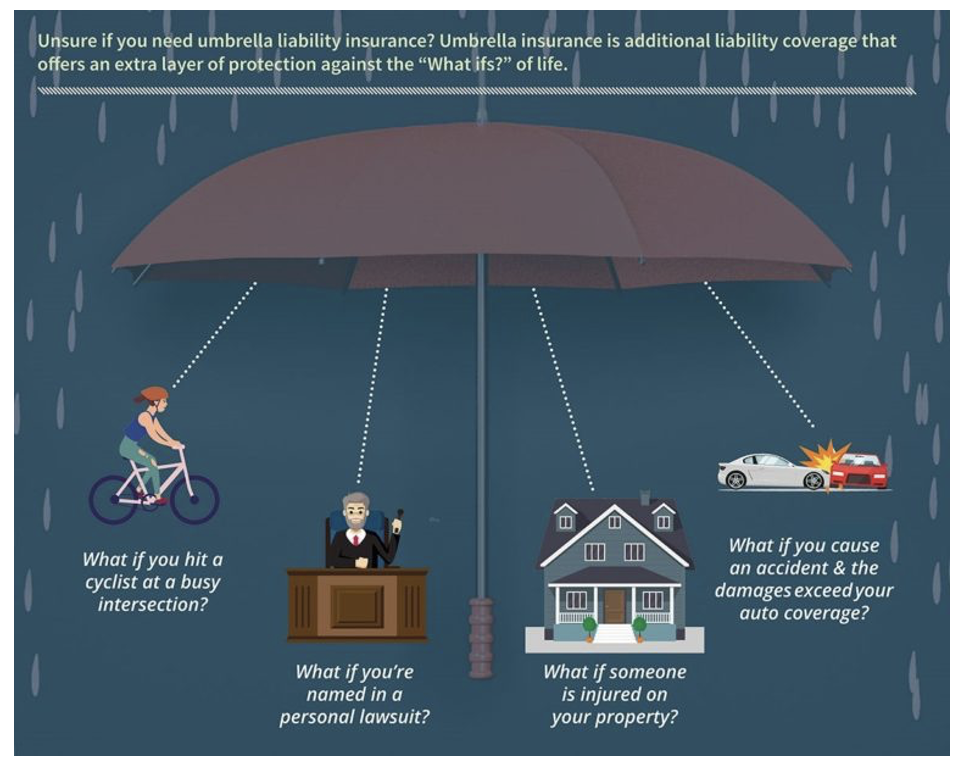 Who needs an umbrella insurance policy?
We currently live in a lawsuit happy world and the reality is, since accidents that result in high costs can happen to anybody, obtaining an umbrella policy is recommended for almost everybody.
The good news is, since umbrella insurance typically extends to cover every member of the household, you only need one policy to protect your whole family. Even if your spouse or children don't have auto or property insurance in their own names, they'll stay "dry" under your big, family-sized umbrella.
10 Common reasons for having an umbrella policy
You have inexperienced drivers in your household

You have a significant amount of net worth

You want to protect against potential loss of income

You own property (especially investment property)

You own a business

You own pets (specifically large dogs)

You coach youth sports

You have children (especially teenagers)

You participate in activities that could easily injure others

You own items that could lead to injury lawsuits
How Much Umbrella Insurance Do I Need?
When selecting the right amount of coverage, there are things to consider.
Value of your assets:

An umbrella policy should cover at least your net worth—this is generally what you stand to lose in a lawsuit.

Potential future income loss:

Your future income could also be at risk in a big lawsuit. Even if you have a limited income now, consider your potential future income. For instance, if you're a medical student, you should consider your future earning potential.
A long legal proceeding is stressful and can potentially ruin a reputation, whether or not the lawsuit was baseless. Purchasing an umbrella policy won't ease the stress, but it can save everything you've worked so hard to build.
How Much Does Umbrella Insurance Cost?
According to the insurance information institute, a $1 million umbrella policy typically costs $150 to $300 annually. However, the cost of insurance varies by location, along with factors such as your home's age and construction, safety and security features and your age and claims history.