Medicare Open Enrollment begins on October 15 and runs through December 7. The Centers for Medicare and Medicaid Services recently announced Medicare Part A and B costs for 2023. Medicare costs generally rise from year to year. While some costs are increasing again in 2023, you may be pleasantly surprised to learn that some costs are actually going down. Here are the details:
Medicare Part A - covers inpatient hospitalizations, care in skilled nursing facilities, hospice, inpatient rehabilitation, and some home health care services.
Part A premiums will increase slightly in 2023, but most people do not pay a premium for Part A because they or their spouse paid Medicare taxes and worked more than 10 years. For those who do not qualify for "premium-free Part A", the monthly premium in 2023 will be $278 or $506 (up from $274 or $499 in 2022), depending on how long they or their spouse worked and paid Medicare taxes.
The Part A deductible covers up to the first 60 days of an inpatient hospital stay. Each hospital stay is called a "benefit period". The deductible is increasing by $44 to $1,600 in 2023. Note that you can have multiple benefit periods in one year and the deductible must be paid for each of them.
Medicare Part A beneficiaries incur costs (called "copayments") for longer hospital stays. The copayments are increasing in 2023.
Days 1-60:

$0
Days 61-90:

$400 copayment per day (up from $389 in 2022)
Days 91-150:

$800 copayment per day (up from $778 in 2022)
After day 150:

Patient pays all costs
Medicare Part B - covers items such as doctors and other health care providers, outpatient, and home health care, as well as medical equipment and preventative services like vaccines and yearly wellness visits.
The base monthly premium for Medicare Part B in 2023 will be $164.90, a decrease of $5.20 (~3% from 2022).
This is only the third time in the history of Medicare, which was signed into law by President Lyndon Johnson in 1965, that the Part B premium is decreasing.
There have been 11 years in which the premium did not change
The largest increase was in 2022 when the premium increased by $21.60 (14.5%) to $170.10
The additional premium paid by higher income earners, called Income Related Monthly Adjustment Amount (IRMAA), is also being reduced as shown in the table below: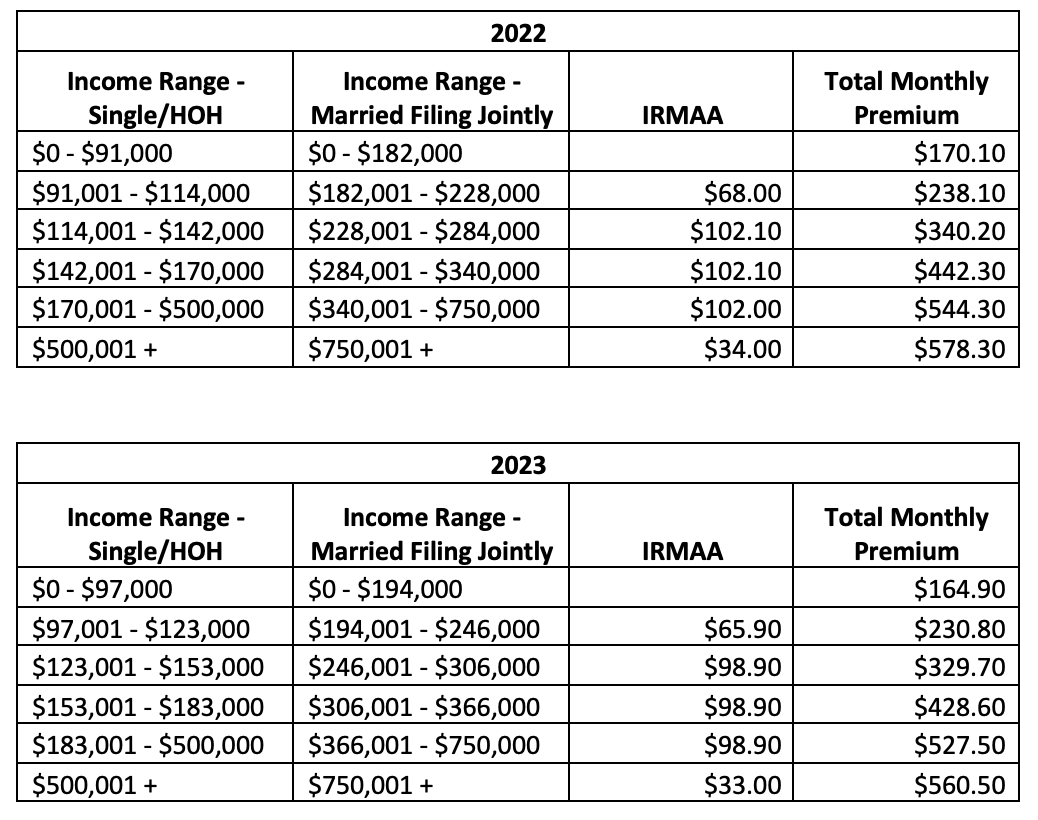 The annual deductible for all Medicare Part B beneficiaries will be $226 in 2023, down from $233 in 2022.
The Medicare Part B beneficiary pays 20% of the Medicare-approved amount for services and items after the deductible has been paid. The 20% paid by the Medicare beneficiary is called "coinsurance".
People who prefer original Medicare usually purchase Part D (prescription coverage) and Medigap policies (also called" Medicare Supplement Plans") from private insurers to cover deductibles, coinsurance, and copayments. Others choose Part C (Medicare Advantage Plans sold by private insurers) instead of Part D and Medigap to cover out of pocket costs and cover additional services (e.g., dental, vision, hearing). Be sure to carefully consider the pros and cons of Original Medicare and Medicare Advantage" in making your decision.